COVID-19 – Recovery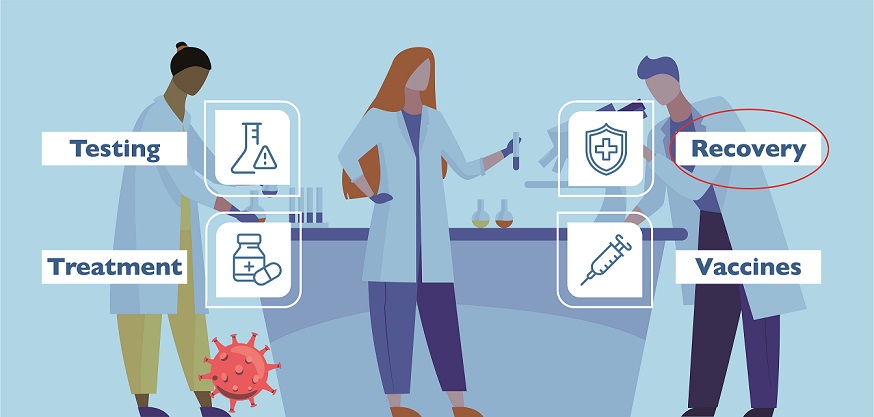 Brought to you by

COVID-19 is a rapidly evolving disease; information may change as management of this disease develops and improves. Medinformer aims to bring you up-to-date information from verified sources. Last revised: 4 May 2021
The majority of COVID-19 cases recover fully although this may take several weeks.5g Most people who contract the COVID-19 virus will recover through self-isolation, enough rest, rehydration and symptomatic treatment.4c
Isolation periods
The isolation period is 10 days after your illness began or 10 days after a positive test if you were asymptomatic.1b After a 10-day home isolation period, you are considered to no longer be infectious – you are very unlikely to transmit infection to others. No follow-up laboratory tests will be done during or at the end of your home isolation period.1c
Close contacts
You can end your home isolation 10 days after your last contact with a person with COVID-19. No laboratory tests will be done at any time during your home isolation period unless you develop symptoms.2a
For more information on the difference between self-isolation and quarantine click here
Back to top
Can you get re-infected with a new variant strain of COVID-19?
It was initially thought that patients who already tested positive for COVID-19, could not get re-infected with SARS-CoV-2 due to the development of antibodies that remain in the blood for an estimated five to six months. Recent studies suggest that protection of immunity against the new strain of COVID-19 cannot be guaranteed.3a Adhering to protocols is essential for the public, including those who were already infected with an older variant of COVID-19.3a
For medical advice or further information, please consult your healthcare provider.
24-hour hotline number is: 0800 029 999
SARS-CoV-2 – Severe Acute Respiratory Syndrome Coronavirus 2