COVID-19 – Testing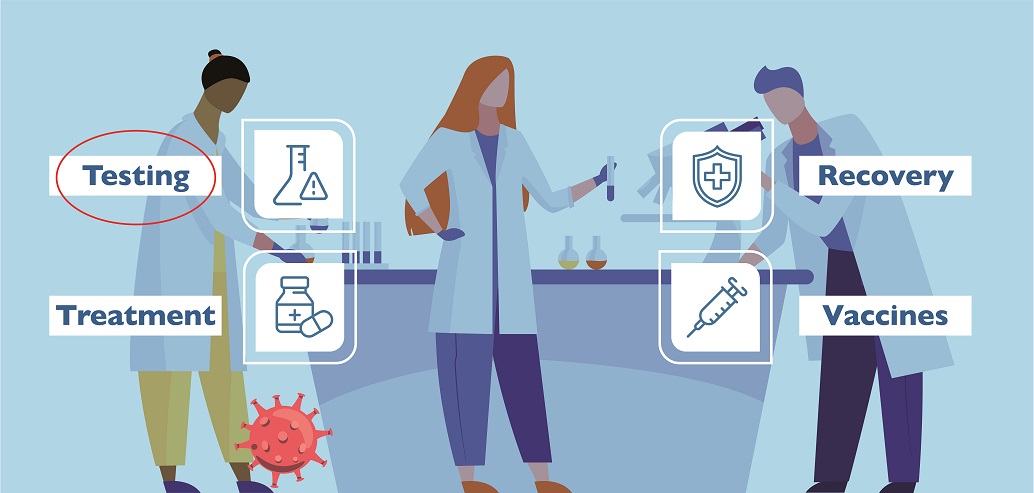 Brought to you by

COVID-19 is a rapidly evolving disease; information may change as management of this disease develops and improves. Medinformer aims to bring you up-to-date information from verified sources. Last revised: 19 April 2021
Any person presenting with symptoms of respiratory illness or other clinical illness compatible with COVID-19:1
cough
sore throat
shortness of breath
loss of sense of smell
alteration of the sense of taste
fever
weakness
aches and pains
diarrhoea
An asymptomatic person who is a close contact of a confirmed case may be tested in certain circumstances.1 Only patients meeting the criteria for a suspected case of COVID-19 or essential workers eligible for testing as per guidelines, will be tested. Guidelines for testing may change over time.1
If you think you might have contracted the virus, you can call the NICD helpline (0800 029 999) and you will be advised on possible testing facilities.3 Public sector testing is free of charge. Private laboratories such as Lancet, Ampath and Pathcare can also test for SARS-CoV-2.3
A single swab taken from the nose/throat area is the preferred sample type.1
The laboratory tests your sample for genetic material from the SARS-CoV-2 virus using a method called a PCR (polymerase chain reaction) test. Testing is performed in laboratories by staff trained in the relevant technical and safety procedures.1
If your test was reported to be positive, then genetic material from the coronavirus was found in your sample and you have confirmed coronavirus disease.2 A single positive PCR test is sufficient proof of COVID-19 infection.1 Repeat confirmatory PCR testing is not indicated, as PCR-based tests have excellent specificity.1
The testing process may differ based on the different provinces and between the public and private sectors. The first step is to contact your healthcare provider. This may be your general practitioner, pharmacist or your local clinic / hospital who will refer you to the nearest testing facility.6a
The most commonly collected specimen or preferred sample is a single swab taken from the nose/throat area.1,6b Patients presenting with a wet cough may be asked to produce a sputum specimen into a jar for secondary bacterial infection testing. Specimens are sent to a pathology laboratory that tests these specimens for genetic material from the new coronavirus.6b The test will be reported as either positive or negative.6d
Back to top
How long will it take to get a COVID-19 laboratory result?
Test results will be sent to your healthcare provider. The turn-around time for testing specimens varies from laboratory to laboratory. If you have agreed to be contacted with your test results, your test result may be sent directly to you.6e In general, you should expect to receive your results within a few days.6g
In order to improve testing worldwide, many rapid diagnostic tests are in development or being used. The World Health Organisation does not currently recommend the use of antigen or antibody rapid diagnostic tests (RDTs) for diagnosis testing as they are not sufficiently sensitive early in the disease course. This means many COVID-19 infected patients may be missed by such tests depending on when they were tested (the majority of patients develop an antibody response only in the second week after onset of symptoms). Currently, South African guidelines do not recommend using antibody-based tests for the diagnosis of COVID-19, but the development of these tests may be useful to support the development of vaccines and disease surveillance.4,5
For medical advice or further information, please consult your healthcare provider.
24-hour hotline number is: 0800 029 999
NICD – National Institute for Communicable Diseases; SAHPRA – South African Health Products Regulatory Authority; SARS-CoV-2 – Severe Acute Respiratory Syndrome Coronavirus 2; PCR Polymerase Chain Reaction; RDT – rapid diagnostic tests