COVID-19 – Treatment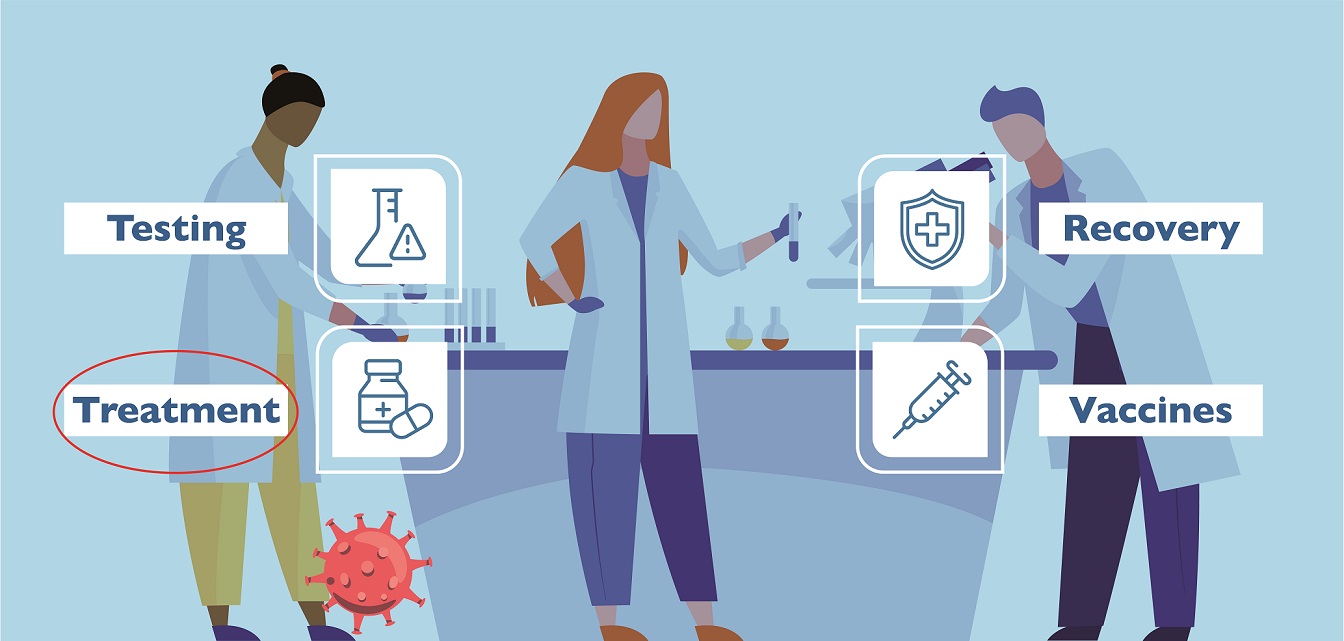 COVID-19 is a rapidly evolving disease; information may change as management of this disease develops and improves. Medinformer aims to bring you up-to-date information from verified sources. Last revised: 18 March 2021
Back to top
STANDARD COVID-19 DRUG-REGIMEN PRESCRIBED FOR POSITIVE CASES
Treatment of COVID-19 will differ based on individual preferences from the responsible healthcare professional and symptoms shown by each patient. Patients who are asymptomatic (showing no symptoms) or have mild disease can be managed at home provided they can safely self-isolate.1c
| | |
| --- | --- |
| What can you take? | What does it help for? |
| Paracetamol or NSAIDs1c,e | Symptomatic relief of fever or pain |
Some patients initially assessed as having mild disease may continue to worsen over the course of a week or more and subsequently require hospitalisation. Any deterioration in the ability to perform activities of daily living at home as a result of shortness of breath should prompt re-evaluation at a healthcare facility. Patients managed at home need to be given the contact details of their doctor or healthcare facility in case of any clinical worsening.1d
Back to top
TREATMENT FOR PATIENTS HOSPITALISED WITH COVID-19
| | |
| --- | --- |
| MEDICATION | FUNCTION |
| Oxygen | Oxygen therapy remains the mainstay of therapy for most hospitalised patients.1f |
| Fluids | Intravenous fluids may be needed due to prolonged fever.1g |
| Ventilation | Patients with respiratory failure may require intubation and mechanical ventilatory support.1h |
| Dexamethasone | Potent corticosteroid drug with an anti-inflammatory action that assists and inhibits the immune system's overreaction to damaging lungs in COVID-19 2a |
| Anticoagulants (heparin, enoxaparin) | Helps prevents the development of blood clots.1i |
It is important to note that each individual will be treated according to their needs and co-existing conditions, the decision to treat is under the supervision of the prescribing doctor. Patients are encouraged to seek medical advice on their individual treatment options.
Back to top
Is it safe to take NSAIDS like ibuprofen for COVID-19 symptoms?
During the start of the pandemic, the World Health Organisation recommended using only acetaminophen or paracetamol instead of NSAIDs (ibuprofen) for headaches, body pain and fever caused by COVID-19.5a However, this statement has been retracted and though paracetamol is preferred, NSAIDs can be used as there is no good evidence that they worsen COVID-19 infection. It is important that patients currently requiring NSAIDs for other indications should not discontinue these drugs unless under their doctor's instruction.1e
Back to top
DRUGS THAT HAVE BEEN CONSIDERED FOR USE BUT DIFFER IN RECOMMENDATION BETWEEN DIFFERENT COUNTRIES
Hydroxychloroquine & chloroquine
Hydroxychloroquine or chloroquine are drugs used for the treatment of malaria and auto-immune disorders like rheumatoid arthritis and lupus. Current evidence shows that this drug does not reduce deaths related to COVID-19 and does not help with moderate disease. Its use in COVID-19 is not recommended.3a
Remdesivir
Remdesivir is an antiviral drug approved in the United states (US) for hospitalised COVID-19 patients.2b It is not routinely recommended in South Africa at the present time.1j
Ivermectin
Ivermectin is used as an antiparasitic drug in humans and animals but is not registered for human use in South Africa.4a The immense burden of the second COVID-19 wave and the limited availability of evidence-based options for the prevention and treatment of the virus, lead to widespread and unregulated use of ivermectin with the consequence that the quality and content of the ivermectin being prescribed, cannot be guaranteed.6a,b Due to the absence of approved guidance for ivermectin use in humans, there is no standardisation for dosage or indications for its use.6c
In order to restrain uncontrolled use of the drug, SAPHRA is exploring controlled and monitored access to reliable quality ivermectin through Section 21 application from health care professionals or prescribers to treat COVID-19.6e,f The responsibility for monitoring adverse events and therapy outcomes lies solely with the applicant and they (usually prescribers) are required to provide feedback on this to SAPHRA.6f Despite the fact the use of this repurposed medicine is being heavily promoted via social media, to date, there is insufficient robust evidence for or against the use of Ivermectin in the prevention or treatment of COVID-19.6d
SAPHRA will continue to update its position as needed, after appraisal of any new data that becomes available.
Building your immunity against COVID 19: What vitamins should you be taking daily?
Vitamin and mineral supplements cannot cure COVID-19 however they are critical for a well-functioning immune system.3b Three supplements adults could consider taking to keep their immune system strong include:

COVID-19 is a rapidly emerging disease – treatment and prevention protocols may change as and when we know more about this disease. Always ask your healthcare professional for advice on specific treatment and continue to practice safe public health measures to help limit the spread of COVID-19.
For medical advice or further information, please consult your healthcare provider.
24-hour hotline number is: 0800 029 999
HCP – Healthcare Provider/ Practitioner; US – United States; NSAIDs – Non-steroidal Anti-Inflammatory Drugs; SAHPRA – South African Health Products Regulatory Authority
Brought to you by