Diabetes prevention roadmap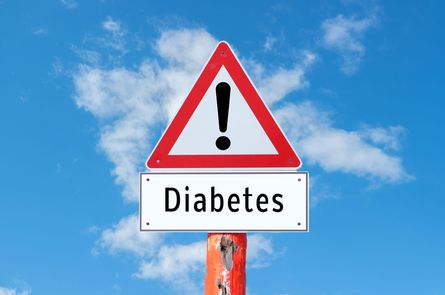 Diabetes is the sixth leading cause of death, with 425 million people estimated to have diabetes globally, or 8.8% of adults between the age range of 20-79 years estimated to have diabetes. Around 90% of all diabetes patients have type 2 diabetes; a condition where the body produces insulin but cannot use it properly. Type 2 diabetes is most commonly seen in older adults, but is now increasingly being seen in children, adolescents and younger adults due to rising levels of obesity, physical inactivity and poor diet.
However, there are things that you and your family can do together to prevent or delay the onset of type 2 diabetes. This brochure will guide you in not only spotting the warning signs, but it also provides lifestyle tips to help prevent type 2 diabetes, so you are equipped with the information to get you back on the right track.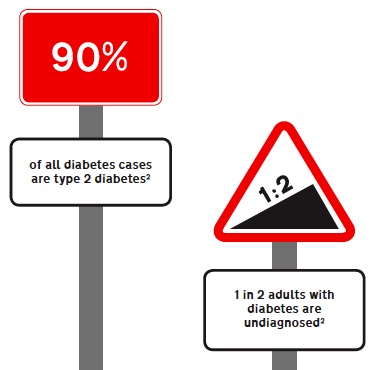 Is caused when the body's immune system attacks the insulin producing (beta) cells. This means the body produces little or no insulin which results in the inability to process sugars from food. High blood sugar levels can then lead to serious health complications. The cause of type 1 diabetes is not fully understood, but a combination of genetics and environmental factors have been highlighted.
Is the result of an inadequate production of insulin and the body being unable to use it or respond properly; known as insulin resistance. During this state, insulin is ineffective which in turn prompts an increase in insulin production to reduce rising sugar levels, and over time, a state of inadequate insulin production can occur. As with type 1, the cause of type 2 diabetes isn't completely known, but weight, obesity, age, ethnicity, and family history are all risk factors.
Occurs when blood glucose levels are higher than normal but not yet high enough to be classed as type 2 diabetes. Many people who have prediabetes are unaware, as there are no warning signs or symptoms, so often people are made aware once the symptoms of type 2 diabetes appear. Risk factors for prediabetes are the same as for type 2 diabetes.
Insulin is a hormone made by the pancreas that allows your body to use sugar (glucose)
from carbohydrates in food that you eat for energy, or to store glucose for future use.
Insulin helps to keep your blood sugar level from getting too high (hyperglycaemia).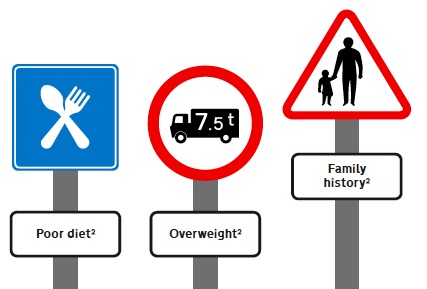 Back to top
Why you and your family need to take action:
By 2040, 642 million people are expected to be living with diabetes, with most of these cases being type 2 diabetes. This means that all families are likely to be affected, so awareness of the signs, symptoms and risk factors is vital to help detect it early.
It's important to take action to prevent it, as type 2 diabetes can lead to:
Nerve damage, abnormal feelings or numbness
Foot problems – like sores and infections
Vision loss and blindness
Miscarriage and stillbirth
Problems with your kidneys
Increased risk of stroke
Increased risk of a number of different types of
cancer
Type 2 diabetes can in some cases lead to long-term complications including cardiovascular diseases, so it is vital you take steps to prevent it. Prediabetes is already linked to an increased risk of these complications.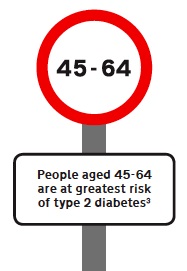 The good news is that preventing, or delaying, the onset of type 2 diabetes is possible.
Leading a healthy lifestyle is the easiest way to ensure you stay on the right road. Many people find lifestyle changes easier if they are not doing them on their own, so the tips and tricks we've highlighted can involve all of the family.
The most effective way of reducing your risk of type 2 diabetes is through a combination of exercise and healthy eating. 30 minutes of moderate exercise on most days is the recommended amount, however more will be required for weight control. It doesn't have to be just joining the gym, it can be walking the dog with the family, swimming, cycling, or any activity that gets your blood pumping! Small changes can make a big difference as well:
Taking the stairs instead of the elevator
Getting off the bus a stop earlier
Walking to school/work instead of driving
Healthy eating can be tricky when involving the family, but there are some handy swaps that once gradually introduced that even the kids won't notice:
Switching to white meat, poultry or fish rather than red or processed meat
Choosing wholegrain bread, rice or pasta rather than white
Choosing unsaturated fats such as olive oil or sunflower oil instead of butter or animal fat
Choosing water, coffee or tea instead of fizzy or sweetened drinks
Eating at least five portions of fruit and veg a day
Choosing nuts or fresh fruit as a snack over chocolate or sweets
Limiting your alcohol intake to two units per day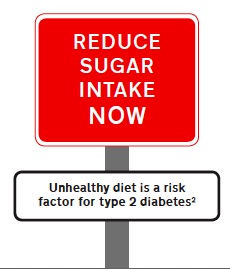 Online assessment
If you or a family member are worried about any of the risk factors then your doctor will be able to test you for prediabetes with either a fasting glucose test or an HbA1c test.
To see if you need to visit a doctor, take the prediabetes risk assessment test at: https://www.yourprediabetes.info/en/home.html. Start making the necessary lifestyle changes and if necessary, begin taking the right medication to treat prediabetes and lower your risk of developing type 2 diabetes.
Prediabetes
Prediabetes should be treated in much the same way as type 2 diabetes: once diagnosed a health plan can be agreed with your doctor to include a mix of medication and lifestyle changes
What to do if you find yourself heading down the wrong road:
One of the best things you can do is follow the measures outlined in the previous section; steering your weight towards a healthier number is vital, and the most effective way of doing this is through diet and exercise. Further actions you can take include limiting alcohol intake and stopping smoking. This will not only make you feel better in the short-term but also have a positive impact in preventing diabetes. However, if you are worried about any of the symptoms outlined previously, the first step is to go and see your doctor. Early diagnosis and management can prevent or delay the long-term health complications outlined above, in people who are undiagnosed with prediabetes or type 2 diabetes.
If your doctor identifies that you are at risk of developing type 2 diabetes, make a plan together to treat it through lifestyle changes and, if appropriate, medication.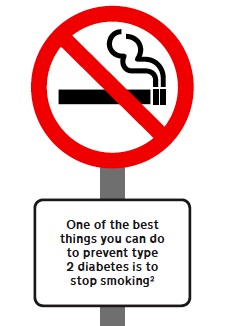 For more information on anything highlighted in this booklet please visit: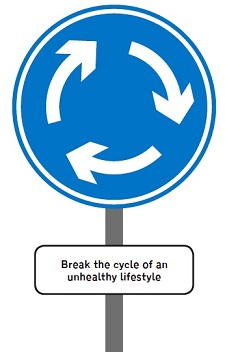 Brought to you by

Medical References
1. WHO. The top 10 causes of death. Available from: http://www.who.int/
mediacentre/factsheets/fs310/en/ Last accessed 2018.
2. IDF (2017). IDF Atlas. 8th edition.
3. CDC. National Diabetes Statistics Report 2017. Available from: https://www.cdc.
gov/diabetes/pdfs/data/statistics/national-diabetes-statistics-report.pdf Last
Accessed July 2018.
4. Diabetes.co.uk. Diabetes Prevalence. Available from: https://www.diabetes.
co.uk/diabetes-prevalence.html Last accessed July 2018.
5. Diabetes.co.uk. Prediabetes (Borderline Diabetes). Available from: https://www.
diabetes.co.uk/pre-diabetes.html Last accessed July 2018.
6. Endocrine Web. What is insulin? Available from: https://www.endocrineweb.
com/conditions/type-1-diabetes/what-insulin Last accessed July 2018.
7. IDF, World Diabetes Day. Available from: https://www.idf.org/our-activities/
world-diabetes-day/2018-19-theme.html Last accessed July 2018.
8. NHS. Type 2 diabetes. Available from: https://www.nhs.uk/conditions/type-2-
diabetes Last accessed July 2018.
9. Diabetes.co.uk. Diabetes and stroke. Available from: https://www.diabetes.
co.uk/diabetes-complications/diabetes-and-stroke.html Last accessed July
2018.
10. Diabetes.co.uk. Diabetes and cancer. Available from: https://www.diabetes.
co.uk/diabetes-complications/diabetes-and-cancer.html. Last accessed July
2018.
11. Huang Y. et al. Association between prediabetes and risk of cardiovascular
disease and all cause mortality: systematic review and meta-analysis. BMJ
2016; 355. doi: https://doi.org/10.1136/bmj.i5953
12. WHO. Diabetes. Available from: http://www.who.int/news-room/fact-sheets/
detail/diabetes Last accessed July 2018.
13. IDF (2015). IDF Atlas. 7th edition.